Future East is a Berlin based Contemporary Music & Media Art festival which focuses on promoting diversity and creativity of the artists with immigration backgrounds Specially from West Asia & North Africa
FUTURE EAST Festival 2021 Aftermovie // 08./09.OCT at Musikbrauerei Berlin // © Paul Bröse
FUTURE EAST [Portal] – Immersive Virtual Environments // Online Exhibitions December .2021 // © Arash Akbari
FUTURE EAST FESTIVAL 2021 – Integration Trailer // 08./09.OCT at Musikbrauerei Berlin // © Arash Akbari
Read the interview with Sam Eyvaz Founder of Future East festival about the concept behind his curatorial practices.
FUTURE EAST Festival 2021 Aftermovie // 08./09.OCT at Musikbrauerei Berlin // © Paul Bröse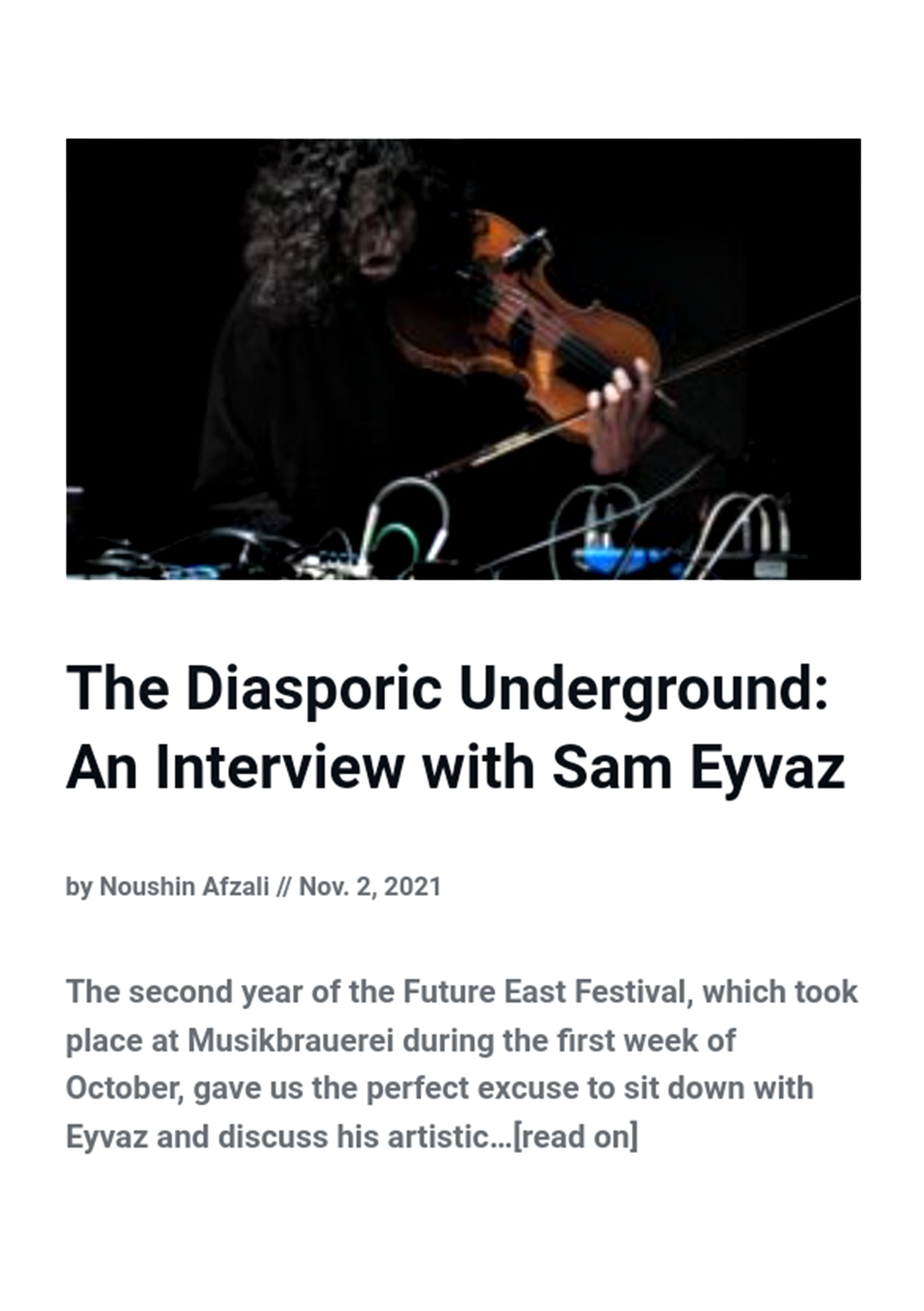 08./09.OCT.2021 | IN-Person Event
The roots are creative, as they persevere and firmly pass through the fractured layers of imposed walls and emerges, suddenly finding themselves in conquest of the new world. What is the path from Genesis to integration? Integration First requires outwitting the terminal gates. Starting out small by sending out one's creative stems.
Virtual World x Music Festival 2020
EXPLORE FULL LENGTH 360 VIDEOS IN HIGH-RESOLUTION IN YOUTUBE.
THESE 360° VIDEOS RECORDED AT DERELICT TUBERCULOSIS ABANDONED HOSPITAL IN ORANIENBURG.
Is it ever possible to emerge anew, uninhibited and infinite? Is it possible for one to predict the inevitable force of swollen creative roots, pushing as they burst from the fragmented grounds of desolate buildings?
Copyright © 2023 Future East Festival. All Rights Reserved